NYC Blizzards
According to the National Weather Service - Eastern Region - www.erh.noaa.gov the three biggest snow storms to occur in New York City's Central Park were:
26.9" on February 11-12, 2006
26.4" on December 26-27, 1947 and
21.0" on March 12-14, 1888.
Click NYC Biggest Snow Storms - www.erh.noaa.gov/okx/climate/records/biggestsnowstorms.html for a list of the top 12 storms or NYC Records - www.erh.noaa.gov/okx/climate.html for many other records.
My Memories of 1947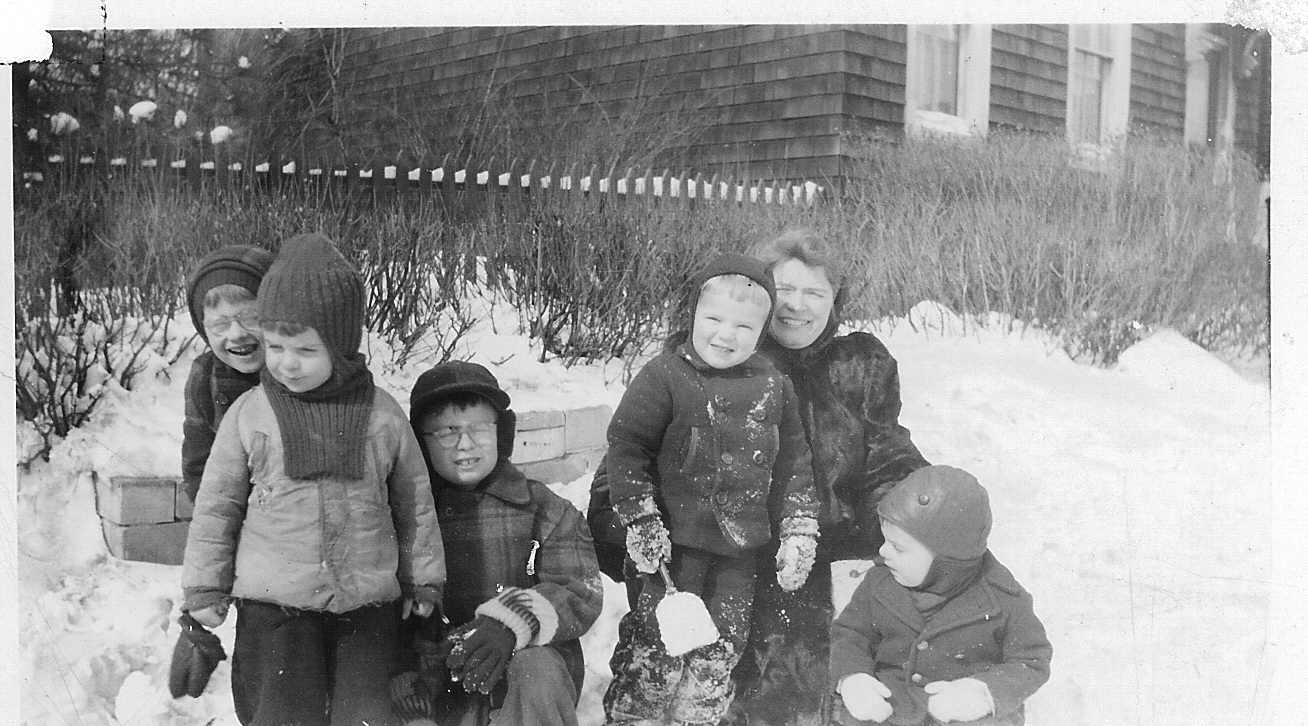 From my (Patrick Lyons) personal experience, the Blizzard of 1947 was memorable. In 1947, I was four years old. On December 25, I visited my Aunt, Uncle and cousins with my parents. The plan was for me to stay over night (my first night away from home) and for my relatives to come to our home (just five miles away) the next day. The Blizzard of 1947 made that impossible. For days, I had fun with my cousins playing in the snow.

The photo at the right is of (from left to right) my cousins Tom Lyons, Arthur Lyons, Joe Lyons, Pat (myself), Catherine (my Mother). Not sure who is on the extreme right. I am not sure if this is 1947. It may be two or three years later and my brother George is on the right. All in all, I remember having fun in the snow with my cousins as a young kid in Blissville.
My Grandmother's Memories of 1888
I don't have direct experience concerning the Blizzard of 1888, but I do have indirect experience from my paternal Grandmother, Margaret Josephine Lyons, who was born in Blissville (Queens, NY) on March 19, 1874. After my experience with the 1947 Blizzard, she would tell me about the Blizzard of 1888. Outside her two story home, she would point to the top of the roof and say that there were drifts 20 feet high along the side of her home, because of the very strong winds during the storm. For days, the men wrapped extra clothes around their legs so they could get through the high drifts.
Blizzard of 1888
Officially, New York City has some information about these blizzards on its website at http://www.nyc.gov/html/oem/html/hazards/winter_history.shtml.
With 21 inches of snow falling over a two-day period — the third largest accumulation on record — the blizzard of 1888 hit New York City by surprise at the end of a warm March day. As two storms, one approaching from the south and one from the north, met over the City, heavy precipitation and winds gusting up to almost 75 mph resulted in snowdrifts up to 30 feet high. Roads and highways were blocked, steam train service was suspended, horse-drawn streetcars and taxis halted operations, and ships docked in New York's harbor.
A New York Central locomotive derailed while attempting to push past snow drifts in the 4th Avenue tunnel, and many commuters were stranded on elevated tracks in unheated cars. It took 14 days for the City to completely recover. The mayor responded in early 1889 by ordering all overhead wires placed underground.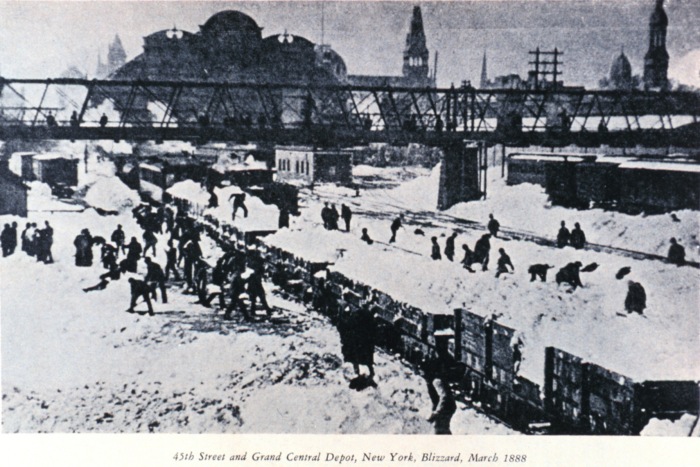 The photo at the right has a title of 45th Street and Grand Central Depot, New York, Blizzard, March 1888. It is from the National Weather Service Photo 905 at
http://www.photolib.noaa.gov/brs/nwind19.htm.
Blizzard of 1947
Dropping 26.4 inches of snow in Central Park, the blizzard of 1947 still holds rank as the biggest snowstorm in New York City history. As moisture in the Gulf Stream fed the storm's energy, the City was paralyzed when the blizzard barreled its way through, stranding cars and buses in the streets, halting subway service, and claiming 77 lives. (This page was last edited on January 27, 2011 .)